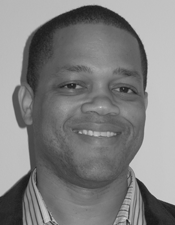 Brian Chisolm didn't start his career as an independent meeting planner, but his experience in the corporate world of hospitality prepared him well for this new stage in his career. Now, as an independent meeting professional, he is growing a business he truly loves and he has the flexibility to spend more time with family.
Over the years, Brian has held positions on the national, regional, and property executive levels in his corporate hospitality career. His work in those various positions gave him a broad pool of experience from which to begin his independent meeting planner career. "I think the corporate perspective allows me to be flexible in terms of understanding different brands and what the roles are. Marriott allowed me to work with clients on a national level and have an understanding of how each brand operates and what they focus on," he says.
When Brian left his corporate hospitality position to become an independent meeting planner, he knew what he was risking. It takes time, patience, and balance to build a business you truly enjoy and that is financially rewarding. "The reward side is why you do it," says Brian. "The upside is the freedom of who you work with and when. You have the challenge of wanting to be better."
When Brian became an independent meeting planner, he outlined specific financial goals he wanted to reach. It took him three years to achieve the level of financial success to which he aspired. He says the independent business model is a good one. He did have necessary start-up expenses, such as computers, a cell phone, office line, fax machine, and business cards. However, Brian was able to manage the amount of start-up costs and begin his new career with minimal funds.
Now, seven years after beginning his career as an independent meeting planner, Brian has built a business that allows him to balance work life and family life. He can often be found coaching his children's sports teams, something he might not have had the flexibility to do while working for a traditional employer.
Brian works to carve out specific niches in his industry. One of his areas of expertise is working with sports organizations. Brian has actively participated in sports his whole life and holds a sports management degree. Professionally, he has worked with bowl games, basketball events, and with clients in sports management and sports education. This experience allows him to better anticipate the specific needs of his clients in the sports industry.
Another area where Brian has found great success is working with large organizations which conduct multiple, diverse events and need assistance building long-term relationships with hotels, navigating the complex relationships with hotels and conference/convention venues, selecting sites that best meet their needs, and effectively marketing their events.
Brian is particularly effective with small business groups that have never planned an event before. "I help them create their hotel package, hospitality plan, helping them identify what the program is about," says Brian. He enjoys building relationships with groups just starting to hold events and helping them learn the event planning process. Once his clients are comfortable with the process, he helps them expand their events and maximize their organization's potential.
Brian has enjoyed the benefits of working with Doug Baarman and ConferenceDirect. "I worked on his team for Marriott and he was doing market sales in the DC Metro area," he says. "I knew what type of person he was. He helped me to relight the fire and that has now been over five years ago."
When asked what advice he would give other professionals thinking of making the switch to independent status, Brian says, before leaving a current job, "look at family structure, what support you have. Really kind of look at the big picture, making sure they can jump start careers here quicker and faster." He also claims that, "being blessed with a nice wife" has also been instrumental in his ability to build his business.
Brian admits there are things he would do differently if he were to start over again. "I think for me the big thing is to prepare for this world and understand. I didn't prepare as well as I would tell other people. I had a two month gap between ConferenceDirect and Marriott. I had moved to a new market, thinking of a different direction."
When asked what characteristics you must possess in order to be successful in this business, Brian says, "Being bull headed, being persistent, not quitting. You need time. Once you do something for a long time, then all of a sudden, people have respect or trust, and they are going to be there when you call back. So many people call back in the third or fourth year. I picked up other things in the meantime."
Over the years, Brian has built up a successful career as a meeting planner, using prior knowledge of the industry as well as careful planning and charisma. His success comes from hard work and perseverance.
If you liked this article, you may also be interested in "Hospitality Professionals: Is Being An Independent Meeting Planner and Event Planner Right for You?"